Last Friday Lesley and I had our final elimination phase consultation and she was happy for me to begin the reintroduction phase the following week because my gut had completely quietened down. After going through an extensive questionnaire which helped her to determine if it was safe for me to go forward onto the reintroduction phase we decided that I would try to challenge lactose the following week.
You don't have to eliminate dairy during the elimination phase as long as you use lactose-free products instead, but I have a mild dairy allergy, so I had cut it out of my diet during elimination in order to make sure that any symptoms I was having as a result of the dairy allergy weren't being confused with any FODMAP responses.
I'd also like to point out that during the reintroduction phase it's important that you still eat the strictly low FODMAP foods you eat in the elimination phase, with the exception of the food that you're testing on reintroduction. That way you know that if you have a reaction it's due solely to the high FODMAP food you're testing and not something else you've incorporated into your diet.
I was looking forward to this challenge because I've really missed having real butter on my toast and in sandwiches. I'd even missed cheese even though I'm not a big cheese eater, so I was keen to test my response to it.
During our consultation Lesley did a great job of explaining to me how the reintroduction phase works for each of the FODMAPs I'll be testing, so I knew that on Monday I was to drink 125ml of normal milk, on Tuesday 250ml of milk and on Wednesday 375ml of milk. This was fairly easy for me to take because I just made myself decaf lattes every morning to test my reactions.
It's funny because I thought I'd enjoy the taste of the lattes more than I actually did and I realised that I'd become so used to drinking non-dairy milks, such as hemp, rice and oat, that they'd became my new norm. As a result, I decided that regardless of the lactose response I had I'm definitely going to stick to drinking non-dairy milk.
Getting back to the lactose challenge, I was pleased to find that I had no ill-effects on the three days I drank the milk apart from nasal congestion which I attribute to my diagnosed milk allergy, so I thought I was doing well at tolerating the lactose, but on Wednesday evening I had a full-blown spasm attack which lasted all day Thursday too. Another weird effect of the lactose challenge is that whereas ordinarily I'm IBS-D the lactose had led to me having much more solid stools and having a bit of IBS-C which was very odd for me!
Lesley had stressed to me that I was to keep her informed about how each of the challenges went, so it was with disappointment that I messaged her on Wednesday evening and told her about my reaction. She reassured me that it could have been the cumulative effect of having lactose three days in a row which had led to my reaction, but she also said that I might be able to tolerate small amounts of lactose, but maybe not every day. Lesley then advised me to spend the rest of the week eating very low FODMAP again in order to re-settle my gut in preparation for testing a new FODMAP group next week.
Today is Friday and I now feel much better. My gut is once again calm and I'm confident that by Monday morning I'll be able to start a fresh FODMAP challenge although I've yet to decide which one. I had planned on testing fructans, specifically bread, but I'm not sure if I'm ready to deal with another spasm attack quite so soon, so I suspect I might pick a group that I'm fairly sure I can tolerate well, such as sorbitol. I'll decide when Monday comes around.
If there's one thing that the lactose challenge has taught me it's that reintroducing FODMAPs is not an exact science and it's about finding out your different levels of tolerance. On that note, I think I'll re-test lactose again in the future, but I'll probably follow this method instead:
Sunday: 125 ml milk
Monday: Low FODMAP
Tuesday: 250ml milk
Wednesday: Low FODMAP
Thursday: 375ml milk
Friday: Low FODMAP
Saturday: Low FODMAP
By following this system I hope that I can monitor my body's reaction to different quantities of lactose by seeing how it reacts the day after each 'dose' of lactose.
As always during this process I'll keep you informed about how I get on with each of the challenges.
Low fodmap workshop



Lesley's also running an 'Introduction to the Low FODMAP Diet for IBS' workshop on the 11th of May in Glasgow which is going to cover all of the important aspects of the low FODMAP diet. It's a bespoke workshop which will cost £199 to attend (it's normally £249) and this price includes a two course low FODMAP a la carte lunch in a top Glasgow restaurant.
The workshop will include:
Lesley will show you how you can improve your IBS symptoms.
You will learn the principles behind the low FODMAP diet and how to adapt recipes.
Understand what foods are allowed and what foods should be avoided.
How to decipher food labels.
All the information you will need to get started.
Advice on the Elimination and Rechallenge/Reintroduction stage.
Continued group support.
A freshly prepared 2 course A La Carte low FODMAP and gluten-free lunch at the first UK restaurant to offer a low FODMAP menu with a relaxed informal Q&A session during lunch with Lesley who will be happy to discuss general concerns you might have.
Plus you'll get a Low FODMAP goody bag to take home with you!
I'm really excited to be going along to Lesley's workshop because I love helping people to learn about how the low FODMAP diet works and how beneficial it can be in the treatment of IBS and I'm also really thrilled at having the opportunity to help people learn how to adapt recipes to become safely low FODMAP.
If you would like to book a space to attend the 'Introduction to the Low FODMAP Diet for IBS' workshop or if you have any questions you'd like to ask about the workshop then please contact Lesley by email at info@lesleyreiddietitian.co.uk
I think it's going to be an excellent and very informative day and I'd be thrilled to see you there, but if you can't make it then Lesley is also offering readers of The Fat Foodie 20% off the price of one-to-one individual consultations during April. Just email her at info@lesleyreiddietitian.co.uk to set up an appointment.
Telephone:
07777640035
Email: info@lesleyreiddietitian.co.uk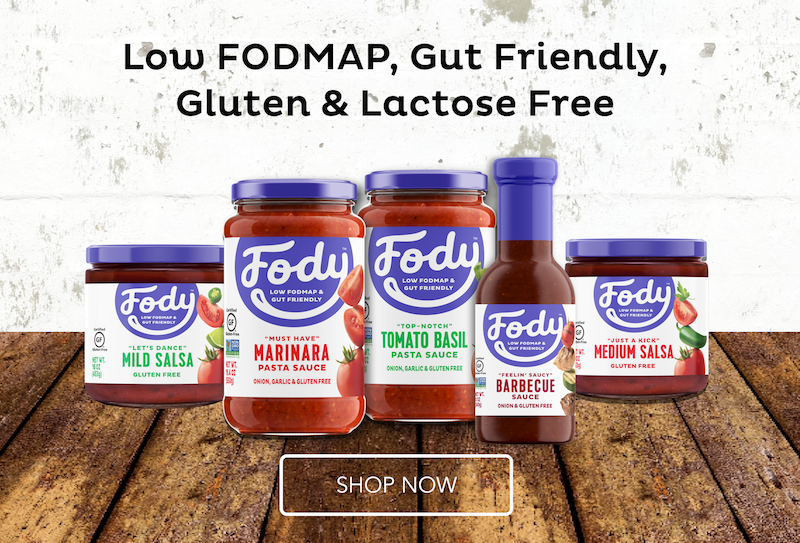 Copyright protected by Digiprove © 2019